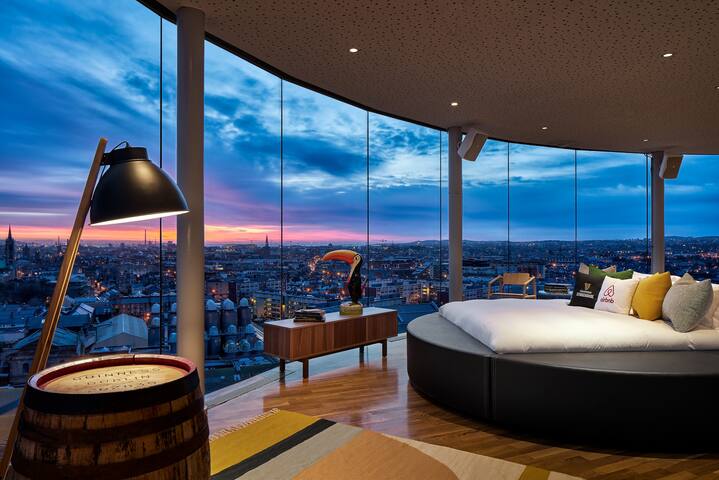 Night At
Guinness Storehouse
リスティングについて
---
部屋タイプ: まるまる貸切
ベッドタイプ: ベッド
最大定員: 2
寝室: ワンルーム
バスルーム: 1
ベッド: 1
チェックイン: 15:00時以降
---
アメニティ・設備
キッチン
インターネット
テレビ
必需品
暖房
エアコン
洗濯機
乾燥機
敷地内無料駐車場
無料の路上駐車
有料の路外駐車場
Wi-Fi
ケーブルテレビ
朝食
ペットOK
ファミリー/子ども連れOK
イベントに最適
喫煙OK
車いすOK
エレベーターあり
エレベーターあり
宿泊施設またはビル内に、奥行き132cm以上、扉の幅81cm以上のエレベーターがあります。
室内暖炉・薪ストーブ・囲炉裏
ワイヤレスインターホン
ドアマン
プール
露天風呂・ジャグジー
ジム
ハンガー
アイロン
ヘアドライヤー
ノートパソコン使用に適した仕事スペース
ノートパソコン使用に適した仕事スペース
ノートPCが置けるテーブルや机 + 快適に仕事ができる椅子
専用のリビングルーム
専用の玄関
セルフチェックイン
セルフチェックイン
キーボックス、キーレス・エントリーを活用したり、常時いる人に預けたり
---
お部屋の紹介
IRELAND'S MOST EXCLUSIVE BEDROOM
Even locals don't get this kind of access. Get ready for a stout-steeped, Toucan-themed experience during your overnight stay at this beer-lover's pilgrimage site, the Guinness Storehouse in the heart of Dublin.
We'll take you on VIP tours of the brewery and the Guinness Storehouse, before a Guinness-themed private dinner by our Executive Chef in the Gravity Bar. Its here you will stay for the night with a 360-degree panoramic view of Dublin.
The Guinness Storehouse is, well, let's say, spacious. Before you rest for the night explore it with your own personal guide and discover how the world's best-loved stout is made.
You'll begin at Thomas Street, Arthur Guinness's home residence. The magic and mystery will begin to unfold as you step through historic railway lines, across cobbled stones and through the underground tunnels. A level of access no public visitor ever gets!
Then, you'll learn to pour the perfect pint and explore the wonderful world of Guinness advertising and the best views of Dublin city from our Gravity bar, which boasts a 360-degree panoramic view of the city below. By now you should be feeling at home.
Take a few hours to relax, before our expert Beer Specialist and Executive Chef pay you a visit to serve up 6-courses from our Guinness-inspired menu. Reflect on your day of tastings, trivia, and VIP access as you enjoy culinary delights accompanied by an incomparable 360-degree view of the city. Gaze upon the city with your favorite music playing in the background of your loft room that is fully outfitted with the best Sonos speaker to set the scene to a truly unforgettable evening.
Get ready for bed as you'll sleep looking out to the stars over Dublin. You are now in Ireland's most exclusive bedroom. The first person to call this home, without having Guinness in their name.
But it doesn't end there… the next morning after breakfast, our Brewer Peter Simpson will teach you all about the basics of brewing, the various ingredients and what makes Guinness made of more.
When it comes to getting a taste of Dublin, it doesn't get better than this.
Will you be our lucky winner?
As we say in Ireland, "Sláinte!"
(Official Rules Listed Below)
Night at Guinness Storehouse on April 24th, 2017
NO PURCHASE OR PAYMENT NECESSARY TO ENTER OR WIN. A PURCHASE OR PAYMENT WILL NOT INCREASE YOUR CHANCES OF WINNING.
When you submit a submission for this Contest, you agree with the Official Rules below. An alcohol purchase is NOT required. .
Sponsor. The Sponsors of this Contest ("Contest") are Airbnb Ireland UC, The Watermarque Building, South Lotts Road, Dublin 4, Ireland ("Airbnb") and Guinness Storehouse Limited, at St James Gate Dublin 8, Ireland ("Partner")
How to Enter. Participants who have reached the age of 21 at the time of participation, may enter the Contest from March 13th, 2017 at 7 am GMT until March 22nd, 2017 at 11:59 pm GMT by following the process below. Submissions must be received through the below process by the close of the Contest to be eligible.
Process: To participate in the Contest and to try to win the prize described below, you have to:
1.Sign in with an Airbnb account
2.Go to the Night At Guinness Storehouse competition listing page
3.Click on the "Enter to Win" button
4.In the form provided write an answer of 50-200 words maximum – in English, French, German, Chinese, Spanish, Portuguese, Italian or Korean – To the following question " What makes you the world's biggest Guinness fan ? "
The Submission must be sent from the participant's Airbnb account to be verified and reviewed. Each participant can only participate once and you represent that you are 21 years of age or older. Airbnb and Partner are not responsible for computer or network problems, problems with servers, problems with email accounts or the failure to receive any Submission for any reason whatsoever. By entering the Contest, participants agree, on their behalf and if applicable any guest that as a winner they are permitted to share the prize with, that they may be contacted by Airbnb and/or Partner in relation to the Contest and agree to take part in any publicity that occurs as a result of the Contest and grant Airbnb and Partner and their group companies and agents the right to use their name and/or image and/or town/country of residence, except where prohibited by law.
Eligibility. You must be 21 or over to enter the Contest. The Contest is only open to residents of the following countries: Republic of Ireland, Northern Ireland, United Kingdom, France, Belgium, The Netherlands, Germany, Spain, Portugal, Italy, Argentina, Mexico, Australia, China, South Korea, United States and Canada (excluding residents of Quebec). This means that you are not allowed to participate unless if you reside in one of these countries. By entering, participants agree that the individual winner will be selected from all eligible Submissions received from residents of these countries only. This Contest is not open to residents of any other countries, including but not limited to: Cuba, the Crimea Region of Ukraine, North Korea, Syria, Iran and Sudan. Directors, officers, employees, independent contractors and agents of Partner and Airbnb, or their subsidiaries or affiliates, and the members of their immediate families or households, liquor authorities and licensees including retailers are not eligible. The Canadian Liquor Authorities are not connected with the Contest in any manner whatsoever and are not liable in any way whatsoever in any regard to any matter which is related to this Contest.
Winner Selection. One participant will be selected from the eligible Submissions and will be nominated winner and best story writer of the Contest. The odds of winning the prize will depend on the total number of eligible entries received and determination of the panel of judges.
The winner will be chosen entirely on merit, based on the following criteria applied by a panel of judges:
1. Someone who is passionate about Guinness and Beer.
2. A distinctive submission that is original & authentic with warmth and wit.
The panel of judges will be comprised of members of the marketing teams of Airbnb and Partner, and one independent judge. The judges' decisions are final and binding. If substantially similar Submissions are submitted by different entrants, judges will select only the best version of that idea, as determined by the judges in their sole discretion. If in the opinion of the judges no suitable Submissions are received, or no winner can be contacted or responds as set out in these Official Rules, then the Sponsors may cancel, extend or repeat the Contest in their sole discretion.
Prohibited Content. Submissions/content must be the original work of the participant and not have been previously published, or entered in any other competition, and must not violate the rights of any other party, including but not limited to intellectual property rights or rights of privacy, publicity or other moral rights. Submissions must NOT contain: (a) advertising or commercial content for any party other than Airbnb or Partner; (b) content that endorses/promotes illegal or harmful activity; (c) violent, profane, vulgar, obscene, defamatory or otherwise objectionable material; (d) adult material; or (e) defamatory content.The Sponsors reserve the right to disqualify any participant who violates these prohibitions or any other provision of these Official Rules, or that the Sponsors deem inappropriate for any reason, in their sole discretion.
License. By submitting a Submission, participants grant each of Airbnb and Partner a perpetual (or for the term of the protection granted by the relevant intellectual property rights), worldwide, irrevocable, royalty-free license to transform, edit, modify, reproduce, distribute, transmit, publish, communicate to the public, broadcast, perform, display, or otherwise use the submitted story, in whole or in part, with or without modifications, in any form or medium (including but not limited to: internet, any printed medium distributed via press, billposting, point of sale advertising, flyers, leaflets…), whether now existing or later developed, for entertainment, promotional and/or advertising purposes and/or any other purpose. To the greatest extent permitted by law, participants agree to waive and not to assert or invoke any so-called moral rights in relation to their Submissions (including without limitation the right to be identified as the creator of the work and the right to object to derogatory treatment of the work). For the avoidance of doubt, the license referred to in this paragraph is a fully paid-up license. By entering, you guarantee that your Submission is original as referred to above, and that you have all necessary rights to provide the Submission and to grant to Airbnb and Partner as applicable the rights set out in these Official Rules, as well as the consent of any person identified, depicted or referred to in the Submission. You will indemnify and hold Airbnb and Partner harmless for any breach of these provisions. Only the winner will receive the prize according to the next paragraph: 'Prize'.
Prize. The winner will receive, in recognition of their personal writing talent and as full and comprehensive consideration for the License described above, the following prize for themselves and one (1) guest who is 21 or over:
●Overnight stay at the Home of Guinness , Dublin on April 24th-25th, 2017
●Private dinner in the Gravity Bar prepared by Justin O'Connor*, Executive Chef at Guinness Storehouse
●Tour of the brewery grounds by Guinness Archive Manager*
●VIP guided tour of the Guinness Storehouse and a lesson on the art of pouring the Perfect Pint
●Breakfast in the Gravity Bar.
●Guinness Brewing Experience with the Head Brewer.*
●$400 Airbnb coupon to redeem against a stay in a Dublin listing following the overnight stay, and a transfer to that listing
●Economy class return travel from the winner's home for the winner and guest, including transfers from Dublin Airport to the Guinness Storehouse, Dublin and transfers to Dublin Airport on date of departure
*Subject to availability
The above prize does not include:
●Spending money;
●Meals, beverages and transfers other than those detailed on the itinerary to be provided to the winners on allocation of the Prize;
●Taxes;
●Transfers (other than those stated as being included); and
●any other expense not stated in these Terms and Conditions. In particular, the obtaining and costs of the following items are the responsibility of the winner and their guest: passports; travel insurance; visas; and optional excursions.
Participants represent that they are available to travel to The Guinness Storehouse and arrive on April 24th 2017; if winner is not available on such date, prize will be forfeited without compensation of any kind and an alternate winner selected (that is, the eligible participant with the next highest ranked Submission), time permitting. Participants must have a valid passport (or EU Identity Card) to travel to Ireland during the period of the trip to redeem the prize. The total value of the prize is approximately 10,000 EUR (or the equivalent in local currency) and a return trip (flight) to the winner and guest's home country for all the non-Irish residents. If actual value of prize is less than indicated approximate value, winner will NOT receive the difference in cash or otherwise. The Sponsors are allowed to ask for a written confirmation or proof of the place of residence and age of the winner and any guestthey are permitted to share the prize with before awarding the prize. No substitution or transfer of the prize is permitted. The prize may not be redeemed for cash. If due to circumstances beyond Airbnb's or Partner's control, Airbnb or Partner are unable to provide the stated prize,Airbnb and Partner reserve the right to award, as substitute, a prize of equal or higher value.
In connection with their participation in the Contest, Winner and guest agree not to do, say, post or wilfully cause to be posted on any social forum anything which might materially adversely affect and/or might be reasonably expected to be prejudicial or harmful to the name, image, reputation, goodwill or business of the Guinness Storehouse Limited, Diageo Ireland and the Guinness brand.
Notification/Announcement of Winner.
The winnerwill be selected on April 3rd and will be notified by email within 24 hours. Winner must confirm their acceptance of the Prize in writing within 48 hours of such notification. The Sponsors reserve the right to disqualify winner who does not confirm acceptance of the Prize in accordance with these Official Rules, and reserve the right to select an alternative winner in such event, time permitting. In the event of a dispute about the identity of the winner, the Sponsors will award the prize to the authorized account holder of the Airbnb account from which the winning Submission was sent. The Sponsors may publicly announce the name of the winner within 30 days of the close of the Contest, including through social media channels such as Twitter (@airbnb) and Facebook.
FOR CANADIAN ENTRANTS ONLY: If the selected entrant is Canadian, the selected entrant must, before being confirmed as the winner, correctly answer without assistance of any kind, whether mechanical or otherwise, a time-limited mathematical skill-testing question to be administered by telephone at a mutually agreeable time.
Prize Conditions. Save as may be required by any applicable mandatory laws, the prize will be as referred to in these Official Rules and is provided as-is with no express or implied warranty or guarantee. This Contest is subject to applicable local laws and regulations, including but not limited to tax laws. The winner is solely responsible for any taxes applicable to or resulting from the award of the prize, and the Sponsors will have no obligation for any taxes that may be payable.Sponsors will require the winner, and where applicable, the winner's guest, to sign and return an affidavit of eligibility,a liability release and a publicity release permitting the Sponsors to use their name, image and winning Submission in promotional materials where permitted by law and subject to applicable rules. Refusal or inability to sign and return such forms within 72 hours of receipt may result in disqualification and awarding of prize to an alternate winner, time permitting. The winner and guest represent they will behave as good citizens during their stay at The Guinness Storehouse and that they will cooperate with the security personnel that will be present at The Guinness Storehouse on April 24th-25th, 2017.
General Liability Release. By entering this Contest, participants release the Sponsors and their agents from any liability whatsoever, on any theory, and waive all claims and causes of action arising from or related to this Contest and/or fulfillment and/or use of the Prize, to the extent permitted by applicable law. However, nothing in these Official Rules limits or excludes any person's or entity's liability for death or personal injury caused by their negligence or any other liability which may not as a matter of law be limited.
Data. By entering the Contest and submitting a Submission and any other personal information, participants are expressly consenting to the processing of their personal information by the Sponsors for the purpose of the Contest or any associated publicity by Airbnb or Partner. Airbnb's privacy policy will apply. Airbnb may share the Submissions with Partner and third party prize providers for Contest administration and prize fulfillment purposes.
Interpretation and Disputes. Participants agree: (a) to be bound by these Official Rules and all decisions of the judges, which are final and binding; (b) that any disputes shall be governed by the laws of Ireland (or by mandatory local laws, if applicable), and shall be resolved only in the courts in Ireland (or in mandatory local jurisdiction, if applicable), without resort to any form of class action or other form of collective action, to the extent permitted by applicable law; and (c) that they consent and waive any objection to the jurisdiction of said courts for any such disputes.
Miscellaneous. The Contest is void where prohibited. If any provision or part-provision of these Official Rules is held by a court of competent jurisdiction to be invalid, illegal or unenforceable, it shall be deemed modified to the minimum extent necessary to make it valid, legal and enforceable. If such modification is not possible, the relevant provision or part-provision shall be deemed deleted. Any modification to or deletion of a provision or part-provision under this clause shall not affect the validity and enforceability of the rest of these Official Rules. To the extent permitted by applicable law, the Sponsors may suspend, modify or terminate the Contest if they believe, in their sole discretion, that malfunction, error, disruption or damage is impairing or will impair the administration, security, fairness, integrity or proper conduct of the Contest, in which case the prize will be awarded among the eligible Submissions received that were unaffected by the problem, if possible. With reference to the Italian participants please note that this Contest does not constitute a "Manifestazione a Premio" under the provisions of D.P.R. 430/2001 because winner(s) are selected and prizes are assigned to them on the basis of their personal writing talent and consequently the exception described under Article 6, par. 1, letter a) of the above mentioned decree shall apply.
You and your guest should be over 21 years old, and must be available to spend the night on April 24-25th. For the full contest terms and conditions, please see "House Rules" below. Please note that only residents of certain countries are eligible to enter
Employees in the US or Canada of alcohol beverage suppliers, wholesalers, distributors, importers and retailers are not eligible to enter the Competition or win the Prize.
Submissions should be 50-200 words in English, French, German, Spanish, Italian or Portuguese and 50-300 character or less in Chinese (Simplified), or Korean.
---
ホストのArthurさんの自己紹介
Arthur Guinness was, an innovator with such a belief in his creation that he stamped his family name on it. Over two hundred and fifty years later, his beer is world famous and his brewery is the most visited tourist attraction in Ireland. Now, you can become the first ever tourist to spend the night.