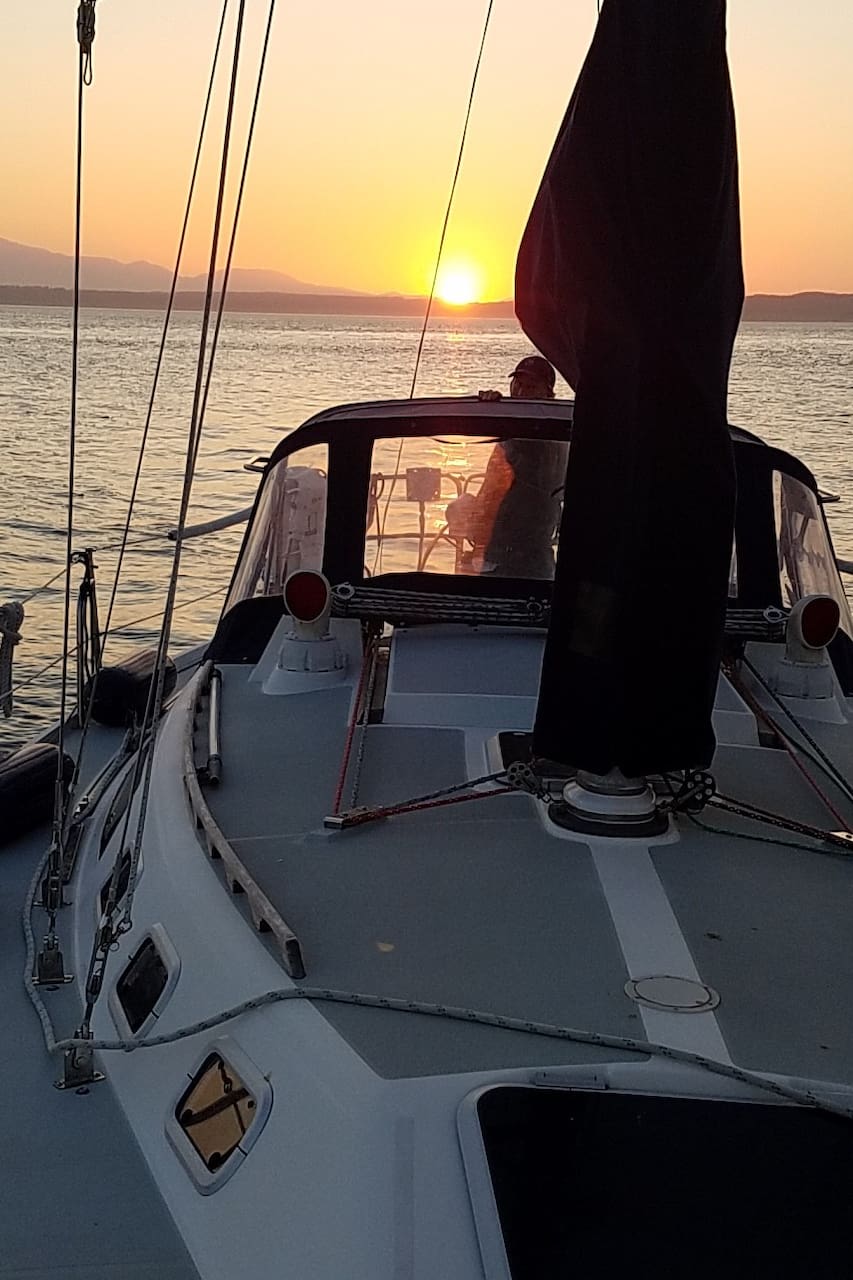 Sailing on Puget Sound…a 3-hour Cruise
Sailing on Puget Sound…a 3-hour Cruise

人気です! 予約110人突破。
Tuuli means "wind" in the Finnish language, and is the name of our 42-foot sailboat. You will enjoy Tuuli's spacious cockpit, open deck and comfortable cabin below. Scott & Karen will share their love of the sailing life and local knowledge, having sailed together for 15 years extensively cruising the Puget Sound and Canadian waters as well as the Caribbean. Scott has lived in Seattle for nearly…
Captain Scott and Karen will first show you around Tuuli and point out safety features and tell you what to expect. Then we'll hoist sails on Tuuli within minutes of departing the marina to start our 3-hour sailing trip in Puget Sound. You'll get the chance to help raise sails and take the helm or just relax and let us do the work. If you're new to sailing and interested in learning we'll show…
Although Tuuli is stable, you need to be comfortable with normal sailboat motion. Tuuli has modern features including stove, galley/sinks, refrigerator, two toilets and a warm cabin if you get chilled
軽食
Snacks (let us know any dietary preferences, you can bring your own food)
コーヒー, ソフトドリンク, 茶, 水とその他
hot and cold non-alcoholic drinks
用具
motion sickness wrist bands, seat cushions, life jackets and required safety equipment
Wear non-marking shoes, no heels, or open toe sandals please.
Bring your sunglasses, wind/rain coats and warm clothing because it's about 10 degrees cooler on the water (Tuuli has good cockpit protection)
Take motion sickness meds before arriving if you are prone to motion sickness; we provide motion sickness wristbands
We will sail scenic waters of Puget Sound near Seattle, typically sailing the 4 miles west across the Sound towards Bainbridge Island and the Olympic Mountains. In addition to mountains, Mount Rainier and Mount Baker volcanoes, and wildlife you won't see from shore, sights include scenic city skylines, historic waterfronts, ferries, shipping traffic and cruise ships underway. We might even be able to watch a large sailboat race from the water.
If you don't see availability for the time you are looking for, you can .

人気です! 予約110人突破。
参加にはご本人確認(自撮り+身分証の顔写真との照合)が必要です。確認は1回で済みます。
Although Tuuli is stable, you need to be comfortable with normal sailboat motion. Tuuli has modern features including stove, galley/sinks, refrigerator, two toilets and a warm cabin if you get chilled
ボート&クルーザー
Sailing on Puget Sound…a 3-hour Cruise